In a previous post I told you about Gross Bob. [Scroll. 2nd post down.]
We got away with it, you see. I had two problems. Or three. I wasn't really in business school to be a business guy. I was trying to please my dad. I had an instinctive conviction that if I followed his true wishes, me going to law school, I would have had my mind destroyed. So business school seemed the lesser of two evils. Cornell the same. My dad went to Cornell. He never forgave me for going to Harvard (to his dying day). My sis was there for the same reason. It did certainly destroy her life, all those years in Ithaca. But I was playing the game. I was, despite my general uninterest, in the top third of my class. I could do it. Finally got on top of math for the first time in my life. Two week pre-enrollment course. One week of Algebra. One week of Calculus. All day, every day. How simple can things be?
The two problems the writer in me had. We got away with trashing a bar working class people depended on for a living. AND most of us were willing to leave one of our own behind to save our own necks. I can still hear the car revving in the parking lot: "Leave him! Leave him! We gotta get out of here." The elite I was supposed to be joining didn't have an ounce of honor among them. Or an ounce of common decency. I knew it was a bad deal all round.
I should have done something. I didn't. I was still twenty years old and way behind where I was supposed to be emotionally given my board scores. I did what kids do. I flopped out.
I dropped out with one semester to go for my vaunted Cornell MBA. What did I do? Nothing. Took a County job publishing an historical magazine. Produced a reenactment of the weird little episode called The Skirmish at Quinton's Bridge. Wrote road signs about it for God's sake. Some of which are still there.
And I taught myself to write. Not Harvard writing. But writing writing. Typed and retyped and retyped and retyped the same paragraph with changes sometimes as small as a single word. My government office was up to my hips in discarded typescript.
They fired me eventually because I never even attempted to do my job. And then I started waking up to the song above. You know. It's probably already infested your brain even as I've been talking drivel. I started hearing this song all night long in my dreams (along with this sleep mugger), a song I'd cued myself in countless Ithaca area bars.
And so I went back to work. As a proofreader, editor, computer analyst, corporate manager, management consultant, speechwriter for Fortune 10 executives, and consultant trainer for the pathetically undereducated drones who are expected to do work they can't do.
But it's a lie. I can't help. I can only shine. And that's never ever good enough.
There's Frank Bogage and my wife and then there's nobody else.
Thus was born Daniel Pangloss, eternal rider of the subway in Shuteye Town.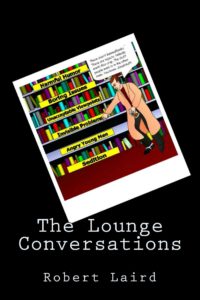 Who vented my frustrations and failures to make any difference in a world of fools. Which was, of course, only Shuteye Town, locus of rails and trains and whistle wails.
The Lounge Conversations
God help you all. God save you all. I can't.