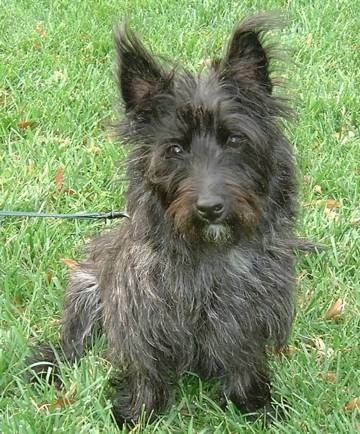 Thing called a cairn terrier. Source file for a bunch of other terriers. Bred down to create other breeds. Scotties. Westies. There's a list but I can't remember them all now. Compact. Small actually. Fearless. Kind of invulnerable.
Occasionally clumsy too. Wendy used to climb on top of chairs in her general charging around. Once she was on a chair over where Mattie was sleeping. She fell off, right on top of Mattie. Who went "Oof!" And right back to sleep.
She wouldn't want me to make a fuss. So I'll tell you just three things about her, which should be enough.
We had an orange cat named Webster. A big, cool fella who was afraid of nothing but the squirrel that came into my Philly apartment one day. Sorry. Another story for another day. Wendy and Webster lived in the same house for years. Except that Wendy never EVER acknowledged Webster's existence. She ignored him completely. He would wait around the corner and ambush her. He weighed more than she did. He'd smack her with all his might. And she'd just shrug and carry on. It was her way.
One time she fell down the back stairs. It was a curving set of steps. She lost it right at the top and tumbled dramatically all the way down. For some reason we were all clustered at the bottom and heard the whole loud ass over teacup disaster. We attempted to pick her up at the end, but she wouldn't let us touch her. She just said "Oof", shrugged, and carried on. It was her way.
This last one is my fault. I've never gotten over feeling guilty about it. I had pretensions of being a baseball pitcher. So I used to throw walnuts at the back of our cement block garage. Green, much bigger than a golf ball, lots of specific gravity. You could throw it fast and hard. My fastball was fast but erratic. Sometimes Wendy kept me company. She thought it was her job to field the rebounds. Which normally she couldn't do. Until this one day when she leaped out and fielded a rebound square on her nose. It was like, well, have you ever seen a prizefighter take a huge punch right on the nose? She sank to her tiny knees, momentarily knocked out. I raced to pick her up, but she would have none of it. She got to her feet, shrugged, and carried on.
When Mattie died, she knew where we had buried her. She used to sleep on his grave. We couldn't deter her in that practice either. It was her way.