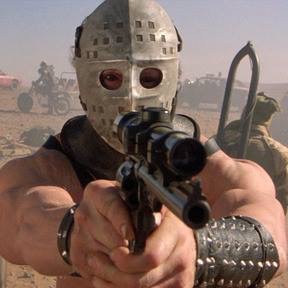 Saw this yesterday and went WTF? Here's a lefty who at every turn wants more government control of everybody but his sacred self and he fancies himself as an anarchic outlaw. WTF.
But it makes sense when you think about it. The dirty secret of quasi libertarian lefties is that they're as totalitarian at base as the Stalinists. They want to tell the rest of us what to do, what to think, how to behave in order to let them do whatever the f**k THEY want to do, because they're just better, smarter, and born to be in charge. The mask is appropriate too. Don't ever show your real face to the proles. They wouldn't like you.
I have an easy rebuttal for Max's pronouncements and profile pic. Veteran or not, he's a control freak jerk. Here's what a real libertarian looks like.