At a loss for words. Oy vay.
Nordstrom Withdraws Hannukah Sweater

While Target is holding fast with its decision to market a controversial Christmas sweater, Nordstrom has buckled under the weight of social media criticism, pulling a potentially offensive Hanukkah version from its ugly holiday sweater lineup.

The festive blue women's sweater by Faux Real features a large menorah and the words "Chai Maintenance" across the chest. The Hebrew word for life, chai is pronounced "high." The characterization unleashed a flood of negative comments on Nordstrom's Facebook page.

"I'm very disturbed by this sweater and the negative stereotype of Jewish women," said one poster, calling it anti-Semitic.

Another expressed disappointment that Nordstrom would sell such a "degrading" item that makes fun of Jewish women.
Excuse me? In my lifetime of experience, Jewish women are proud of being "high maintenance."
When did absolutely everybody lose their sense of humor? I think the sweater is cute. Thinking of getting one for my Catholic wife. She still knows how to laugh.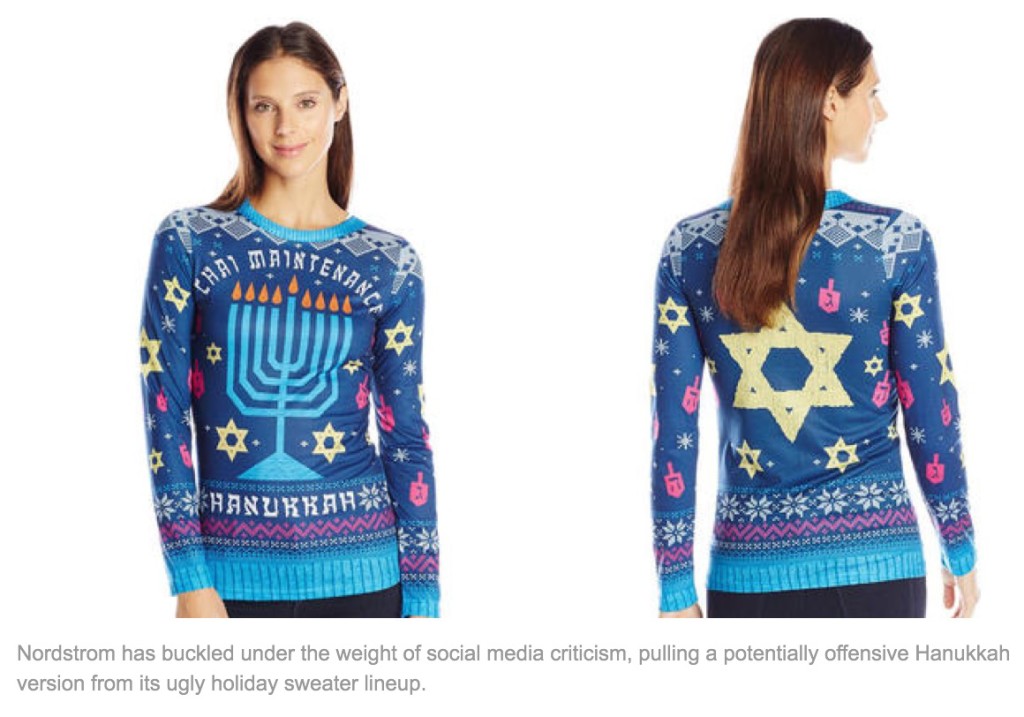 Don't be any more of a putz than you can help. Get one for the JAP in your life.