When you're running headlong from the news, and every media voice is biased, pretending, lying, or exploiting ballooning scandals, you wind up watching too much Netflix. I spent five years deriding Blue Bloods because of the sepulchral Tom Selleck they show in the promos. Halfway through Season 1 now. And loving it. See what I mean?
Worst thing about binge watching? The fear you'll run out of things to watch that won't assault your religion, your politics, or your person. Why, maybe, you start taking the things you like and imagine them coupling up with other things you like or, more deliciously, things you definitely do not like. The inspiration for this post. Ways the streaming universe could keep good things going, and even a few bad things by way of cross pollination. This is a start. Feel free to join in. (On all photos, click if you want bigger.)
M. Poirot and Miss Fisher
Two delightful period series currently running on Netflix. Cars, clothes, manners, all delightful. Problem? Miss Fisher is in 1920s Australia, and Hercule Poirot is in 1930s Britain. No problem. Before he came to London, Poirot spent a few years in Australia, where he teemed up with the free spirited Miss Fisher, rich, somewhat promiscuous, and always equipped with a golden revolver in her garter belt. If you've ever wondered about Poirot's sexual orientation, which you shouldn't, this series will lay all your doubts to rest. Miss Fisher doesn't care what you look like. She knows as much about little gray cells as anybody. And she loves them.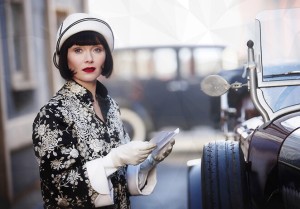 Reid and Eppes, Private Eyes
TV loves geniuses. Numb3rs ran for six years, and Criminal Minds is coming up on a decade of gore and lame voiceover quotes and Gulfstream getaways while the devastated parents are burying their dead. Numb3rs had Charlie Eppes, who knows more math than anybody ever thought of. Criminal Minds has Spencer Reid, who has two or four Phd's in every subject any university ever endowed a chair for. Isn't it time to put them together?
So Charlie gets tired of being second fiddle to his FBI brother, and Spence gets tired of being bullied by Shemar Moore. They meet at a math symposium and decide to become the world's smartest private eyes. After all, Spence knows how to use a gun — or at least wear one on his hip as convincingly as any other supermodel — and they both know how to use phones and computers, and any day now one of them will qualify for a driver's license. Charlie (meaning David Krumholtz) is going to have to lose some weight for this part, maybe all of the eighty pounds he gained after Numbers got cancelled, but we at the Instapunk Network are confident he can do it. Show should be gangbusters. Providing they both learn the difference between tai chi and Krav Maga.
Star Trek Who?
Two of the greatest sci-fi franchises ever (barring the execrable Star Wars nonsense), it's absolutely time to bring these two together, and who cares in what time in particular? So Kirk is on the bridge and Spock is practicing his eyebrow raising and then lieutenantess Sulu sounds the alarm that a large red British phone booth is dead ahead. Kirk flings the blonde yeoman from his lap and orders every crewman in a red shirt to be prepared to die in the incipient collision. Excited yet?
Cut to a moment later when the incredibly expansive interior of the Tardis is stretched to the max by a complete starship. That's when Doctor Who and Captain Kirk exchange their first words.
"You're telling me my starship is in a phone booth?"
"That would appear to be so."
"I could have used you back at the academy when we were trying to put eighteen cheerleaders in a phone booth."
"Pleased to be of assistance."
"Who are you?"
"Yes."
A good long season of quality TV will surely ensue.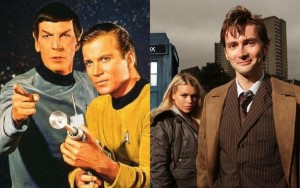 CSI Wyoming
Picture this. An old school cowboy sheriff whose idea of forensics is holstering his gun after shooting a suspect and then hoisting a few with his Injun (excuse me, Native American) co-conspirator in breaking all three of the laws on the Wyoming books, happens upon a bespectacled monk in the desert studying bugs. His name is Grissom. He is insane. But there's chemistry. And over the course of a season, Grissom gradually teaches Long mire that not every death in the county is either by gunfire or natural causes. Several words are spoken in each episode. Lou Diamond Phillips seems to understand Grissom, but he doesn't speak any of the words that are spoken. We are riveted because the words that are spoken are mostly spoken by Deputy Katee Sackhoff.