We acquired Eloise literally by accident. We saw her on the side of what passes for a highway in our rural county, huddled up against a guardrail fence. Stopped the car, tried to approach her, and she scampered across the road into the path of an SUV that clipped her with a front tire. We scooped her up, bleeding and unhappy and tried to figure where to take her. It was a Sunday. How we found the vet we've been taking all the dogs and cats to ever since.
They patched her up. A pug as victim of an SUV isn't supposed to be so lucky. But Eloise (yes, we named her for the imp of the Plaza Hotel) has always been lucky. No broken bones, a few scrapes and stitches and she was right as rain.
Obviously, we waited out the necessary time to claim her, paid the bill(!) and took her home. All of this exposition is by way of explaining that what we knew about pugs was zero. Greyhounds, deerhounds, terriers, shepherds, okay. Pugs? WTF.
We dutifully watched Animal Planet specials about pugs. We learned that the masters are the pugs and the pets are the ones who pay the bills. They get to do whatever they want, eat whatever they want, and generally rule the roost. We looked at one another. Surely not?
Well, not in our house anyway. Eloise learned her first word, which was No. We didn't give her junk food, only the kibble the greyhounds got. Thought we were doing good. Took her to the vet a month after her accident and got a grave lecture from the senior medico about her weight. Too much, he said. At least two pounds overweight. He shook his head at us. We didn't understand. Until we started seeing pictures like these.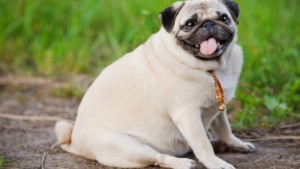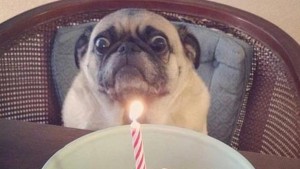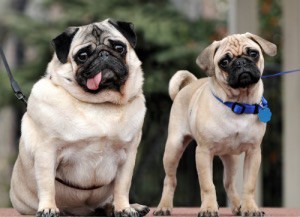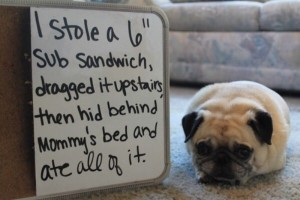 Even the pug champions at Westminster look fat. Too many cupcakes and bacon sandwiches.
Eloise, however, is now eleven or twelve and energetic as a puppy, slim as Audrey Hepburn, and cuter than her namesake. The vet claims she has some arthritis, but you sure couldn't prove it by us.
We invite all the other pug owners out there to join in this year's competition for the title of World's Fittest Pug. It belongs to Eloise by default for now, but we'd love to see more of these guys live longer and zestier lives.