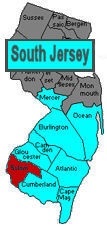 Maybe someday they'll come for us. God knows, I've said some bad things about Obama. But I've only two points to make today.
First, you can see that we live in the saucy rump of the Garden State, in the least populated part of the least populated county in New Jersey. Also the Jersey county that saw the most action, apart from Trenton, in the Revolutionary War. We had Mad Anthony Wayne here, and the Queens Rangers, the Hancock Bridge Massacre, and a heroic stand at Quinton Bridge. We may be rural and a bit backward, but we're America.
Right now the wind is howling, but it will come to nothing. It hardly ever does. The Delaware River perpetually covers our ass, exposed as it looks. Storms — thunder, snow, whatever — sweep through Delaware headed east and, voila, they find their furor blunted by the mighty river between them and us. We're promised six inches of snow and we get one. We've lived here for ten years and nothing predicted has ever been as bad as promised. Not even hurricanes. Which just knock down a few branches. Eerie.
I know. If God wants to knock us for a loop, he will. Just saying, so far he hasn't. People can laugh that we're the ass end of New Jersey, but we're — so far — the kind of booty everyone wishes they had.
Point number two. When the time comes, we'll head south. Where you'll find us. In a sanctuary at Cape May Point.
Why go there? Because church. Not to hide. But to profess faith. We were married in an Episcopal Church. We'd prefer to die there as well. There's a haunting icon at Cape May Point called St. Peter's by the Sea.
You'll find us there. When the time comes. Get ready. Won't be here long. Writers are all screwups. If you can't make it, think of this place before you nod along.