Thank God we are generally well prepared for emergencies. We have a 12 pack of AA batteries, a 6 pack of D batteries, and a crank powered radio for the inevitable power failures. We also laid in the requisite provisions from a largely denuded supermarket: 12 gallons of water, 25 loaves of white bread, a large jar of Jif peanut butter, and 25 gallons of milk. (We don't actually drink milk anymore, but who are we to gainsay official disaster protocols?)
At present we are in good health but as I write this my wife is donning the approved four layers of down-filled outerwear and hip-length snow boots in preparation for the 30 foot journey to the mailbox where further survival instructions from the government almost certainly await.
My job is to look out for the mental health of our dogs and cats, who have been severely traumatized by the immensity of the storm.
The two small dogs can't hope to go outside, so they are tossing and turning restlessly in their crates, evidently having nightmares that could eventually awaken them. Elliott the orange cat is sitting on the couch staring in rigid shock at the sight pictured above.
Raebert is as you see him below, exhausted by all the stress of the past 24 hours.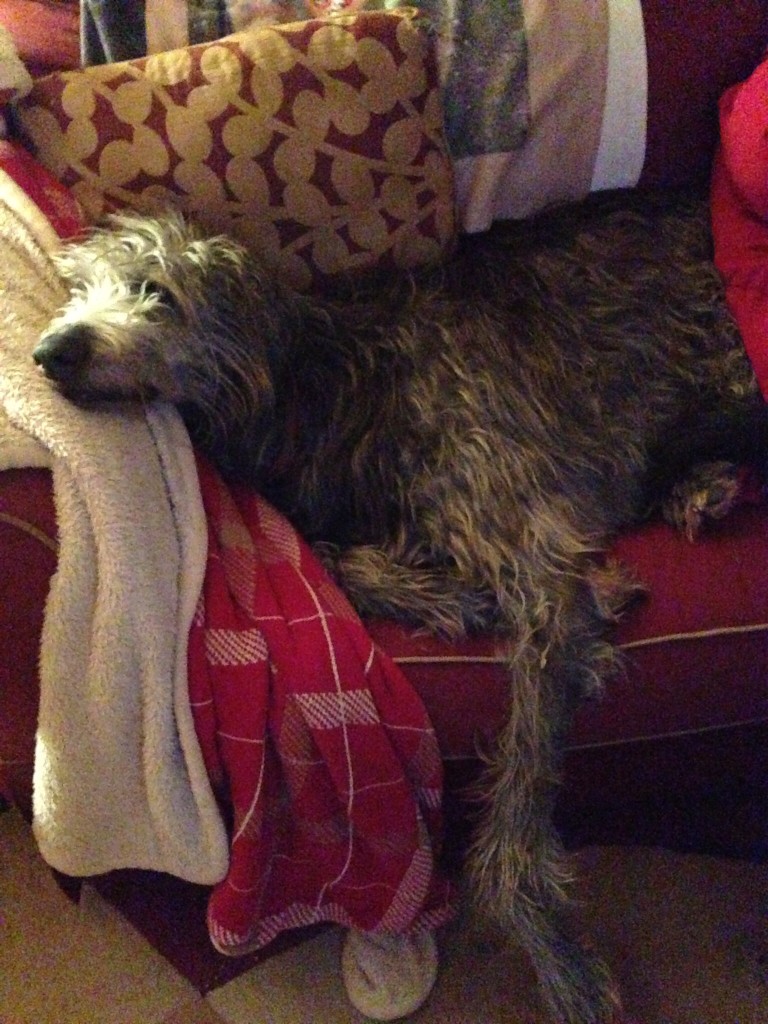 All we can do for the moment is wait and hope, and see how much milk and peanut butter sandwiches we can consume before help arrives.
Wish us luck.