I wake up in the small hours of the night, usually at 3:03 am. Don't ask me why. I just do. It's almost always my worry time. I worry about my wife, things not done around the house, names I can't remember (Does anyone else have a problem remembering the name of Christopher Walken?), the alarming state of my knees, my teeth, my pancreas, my everything. Then I fall back to sleep and all is well when I awaken.
The other morning, though, I woke at 3:03 am and felt the necessity of remembering the totality of The Gashlycrumb Tinies. An alphabetic poem by the late Edward Gorey about murdered young children.
I was thinking, at 3:03 and beyond, that we used to learn poems and have to recite them in class. I did that as well as anybody. But they were mostly bad poems. James Whitcomb Riley and Washington Irving stuff. What I remember is the stuff I taught myself at an early age. Mostly Poe. And this one, singularly catchy and not politically correct epic by Edward Gorey. My wife hates that I know it so well. But I do.
Know it by heart. Except that I woke up in the middle of the night and couldn't remember it. All I could recall was "K is for Kate, who was struck with an axe."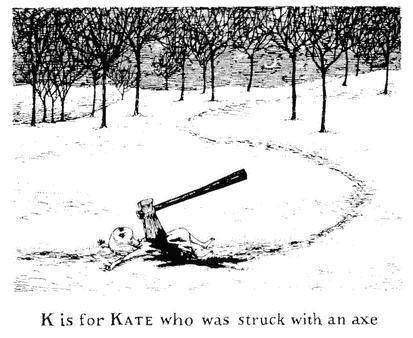 Call it poetic justice or whatever you want, but it took me 90 minutes to remember all 26 names and lines. I was afraid, you see, that I had contracted Alzheimer's.
Do any of you suffer from that fear?
I mostly had it down within the first half hour. But I couldn't recall the 'S' and 'T' line. Again and again and again. For a long long hour. It finally came to me. 'S' was the name of my own sister. Deal with that in the middle of the night.
S is for Susan, who perished of fits. T is for Titus, who was blown to bits.
And then, thankfully, I fell back to sleep. What a bad boy am I.